Gasket Manufacturer, Custom Gasket Manufacturing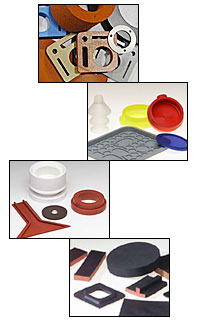 Stockwell Elastomerics is a premier silicone rubber gasket manufacturer in the USA, and is a leading gasket supplier and custom gasket fabrication specialist with a broad range of gasket manufacturing capabilities to serve the technology sector. Stockwell Elastomerics has invested in on-site die cutting capabilities, water jet cutting, compression molding and liquid injection molding capabilities. We know of no other gasket manufacturers or gasket suppliers in our market with this range of on-site production capabilities to fabricate silicone gaskets.
Die Cutting
Stockwell Elastomerics' die cutting capabilities for gasket manufacturing range from kiss cutting small PORON® cellular urethane, silicone foam and silicone sponge pads with adhesive backings on Preco semi-automatic presses to large solid rubber and sponge gaskets.
Water Jet Cutting
Three Flow International water jet cutting systems are on-site to provide prototype gaskets, fast-turn initial production gaskets and production quantities of gaskets with intricate configurations cut using electronic drawing files.
Molding
Liquid injection molding (LIM) of silicone rubber gaskets is another specialty and prominent technology offering. The relatively fast cure cycles of the LIM process and range of silicone compounds from 10 to 70 durometer Shore A have enabled continued growth of our on-site custom molding operations.
Custom Silicone Rubber Gaskets
Silicone rubber gasket fabrication and molding is our core competence. Stockwell Elastomerics has aligned its product line with Rogers' BISCO® Silicone Unit, Saint Gobain's NORSEAL® (formerly COHRlastic®) Silicone Rubber product line, General Electric Silicones and Wacker Silicones.
Custom Conductive Gaskets and EMI Gaskets
Stockwell Elastomerics' gasket manufacturing capabilities range from water jet cutting and die cutting conductive gaskets from sheets to compression molding conductive gaskets. Compounds include nickel-graphite, silver plated aluminum and silver plated glass bead filled silicone and fluorosilicone compounds. Stockwell Elastomerics regularly laminates 3M 9713 and other electrically conductive acrylic adhesives onto conductive silicone rubber. Proprietary silicone priming technology allows for a conductive path from the gasket through the bond interface for EMI shielding performance.
Gasket Fabrication
Stockwell Elastomerics fabricates gaskets from silicone foam, closed cell silicone sponge, solid silicone rubber, fluorosilicone, fluoroelastomers, PORON® cellular urethanes, electrically conductive and thermally conductive silicones and similar high performance materials.
On-site gasket fabrication capabilities include: rubber compression molding, liquid injection molding of silicone rubber, die cutting, pressure sensitive adhesive lamination, specialty gasket fabrication using UV curing processes and assembly methods and water jet cutting. Dedication to broad gasket fabrication capability enables Stockwell Elastomerics to serve the low to mid production quantity needs of the analytical instrumentation, medical diagnostic equipment and portable data acquisition device industries.
Stockwell Elastomerics' gasket manufacturing / gasket fabrication capabilities serve prototype and initial production. This specialty is enhanced by on-site water jet cutting units and a commitment to assist engineers throughout the production design cycle.
Contact Stockwell Elastomerics, A Leading USA Gasket Manufacturer, Custom Gasket Fabricator and Gasket Supplier
Contact Us for further assistance with custom gasket manufacturing and gasket fabrication needs from an American gasket manufacturer.
PORON® is a registered trademark of Rogers Corporation.
BISCO® is a registered trademark of Rogers Corporation.
NORSEAL® and COHRlastic® are registered trademarks of Saint-Gobain.