Request a DP-1001 Sample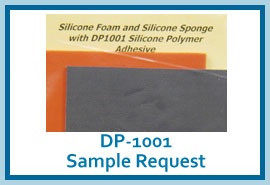 Stockwell Elastomerics offers samples of the Stockwell DP-1001 polyimide film supported silicone pressure sensitive adhesive (PSA) with an easy to remove release liner. With its 91# poly-coated opaque white release liner it easily separates from the silicone adhesive and performs very well in both high temperature and low temperature applications.
Request a DP-1001 Sample Now!
Complete this simple form to request a sample packet of silicone foam and silicone sponge DP-1001 samples at no charge (via ground transport in the USA and Canada.) Experience the product first hand and see how easy it is to remove the release liner.
---