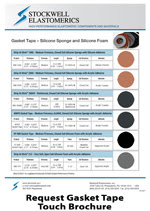 As announced in a recent press release, Stockwell Elastomerics is offering short lead times on high performance silicone gasket tapes. Silicone gasket tapes offer superior performance over most other polymers; the most common others are neoprene gasket tape. Silicone foam tape and silicone sponge tapes have excellent long term rebound, UV and ozone resistance, and a wide operating temperature. When many gasket materials firm up, silicone stays flexible and functional well below -40°F (-40°C). Stockwell Elastomerics offers HT-800, UL listed foam and R-10400, UL listed sponge in tape form (400FR), ready to be custom slit to width. Also available are Strip-N-Stick® (made by Saint-Gobain) medium firmness silicone sponge with either acrylic or silicone adhesive backing.
Click here to request a Gasket Tape Touch Brochure with product information and tactile sample buttons.
Strip-N-Stick® is a registered trademark of Saint-Gobain.