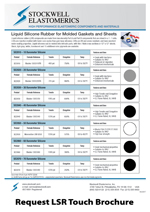 Stockwell Elastomerics announces the availability of their new Liquid Silicone Rubber (LSR) Touch Brochure for industrial applications. This tactile brochure has seven different LSR buttons, from 10 to 70 durometer (Shore A). The brochure was created to help designers understand and select a silicone grade that best suits their gasket and cushioning applications.
LSRs are excellent for waterproof enclosures and portable devices such as scanners, meters, sensors and testing devices where ruggedization is required. Common applications are; portable devices, asset tracking and remote monitoring systems that are frequently required to pass water ingress requirements such as IP65, IP66 and IP67. Custom molded liquid silicone rubber gaskets are often specified to meet these demanding requirements.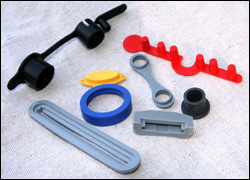 Liquid silicone rubber compounds are available, from on-site inventory, in 10 through 70 durometer Shore A to enable quick response production/shipment. The 2 part uncured liquid silicone compounds are typically pigmented black or light gray during our molding process for most industrial applications. However, translucent (un-pigmented), white and approximately 20 other colors are available.
Stockwell's on-site molding facility not only allows for molding custom 3D parts, it also gives Stockwell the unique capability to mold standard and custom sheets that can also be waterjet cut or die cut on-site. This allows for flexibility and speed to resolve tough engineering design challenges.
Additional Silicone Molding from Stockwell Elastomerics
Stockwell Elastomerics also compression molds specialty elastomers such as electrically conductive silicone and fluorosilicone, peroxide cure and platinum cure gum based silicones and specification grade fluorosilicones. Molded components are typically cryogenically de-flashed.
A Liquid Silicone Rubber Touch Brochure can be requested online at https://www.stockwell.com/lsr-touch-brochure/. For more information on Stockwell Elastomerics' products and services please call 215-335-3005 or email service@stockwell.com.