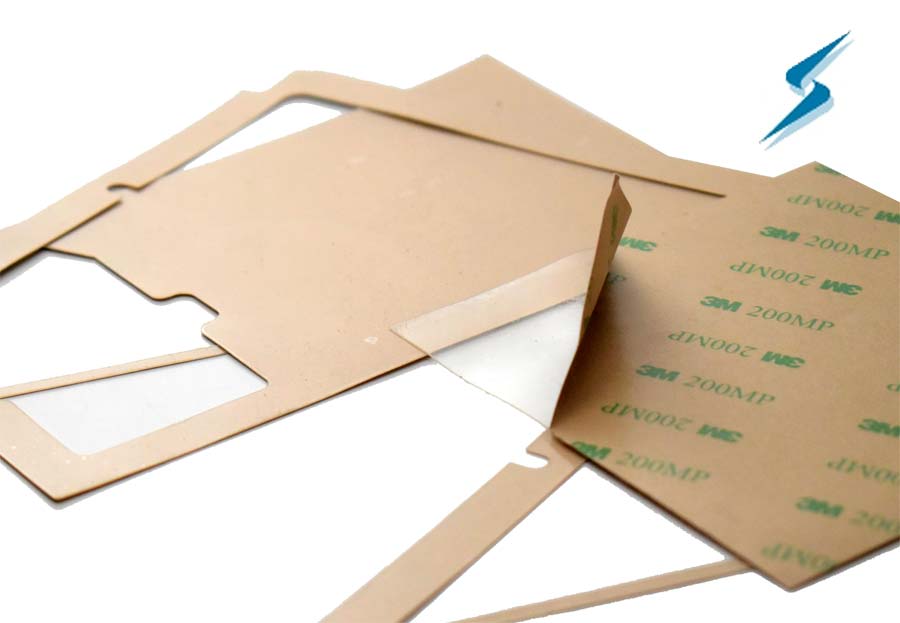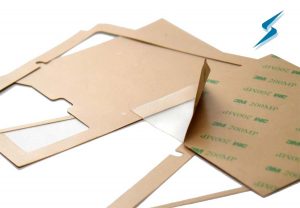 Stockwell Elastomerics has developed the capability to laminate 3M9667MP acrylic adhesive onto ultra thin Rogers BISCO® HT-6000 series silicone rubber, used to manufacture ultra-thin gaskets. The HT-6000 series is liquid silicone rubber, cast as thin as .010″ and .020″ thick – this is considered too thin and stretchy for conventional adhesive lamination processes. Utilizing its proprietary laminating processes, Stockwell Elastomerics laminates .002" thick 3M9667MP onto these thin silicone materials for display gaskets and sealing gaskets for designers of ruggedized portable devices.
Stockwell Elastomerics developed this capability and selected 9667MP adhesive from 3M™ for its performance properties and high bond strength on most substrates found in ruggedized portable equipment. Ultra-thin gaskets are offered with .002 inch thick 3M-9667 MP200 series acrylic adhesive with a 78# moisture proof release liner for ease of liner removal and handling during assembly. Alternative low surface energy acrylic or ultra-high temp silicone adhesives can also be laminated based on specific project needs.
Gaskets can often be the last part specified in a product design. The ability to cut parts from premade rolls of material allows for rapid manufacturing of parts to meet last minute production or lab certification/testing needs. HT-6210, HT-6220, HT-6135, and HT-6240 are cast, 2 part platinum cured methyl silicone. They are very pure products because of the platinum catalyzed reaction. Additionally, there are no by-products unlike some other elastomers.
HT-6000 series silicones provide all the benefits of silicone in a thin, compression set resistant (under 5% in some cases), tight thickness tolerance, and low deflection force (as little as 5 psi) package. Designers looking for IP67 capable, low deflection force gaskets spec in these materials because using them often requires minimal housing design changes to gaps or bolt patterns. These materials are commonly used in rugged displays, touchscreens and similar high performance sealing requirements.
---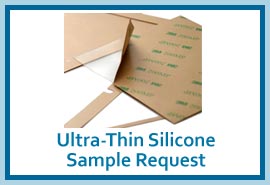 Request a Free
Ultra-Thin Silicone with Adhesive Backing
Sample For Evaluation
---
It is generally recommended to deflect gaskets for an IP67 seal by 10%-25%. See this compression deflection chart for details: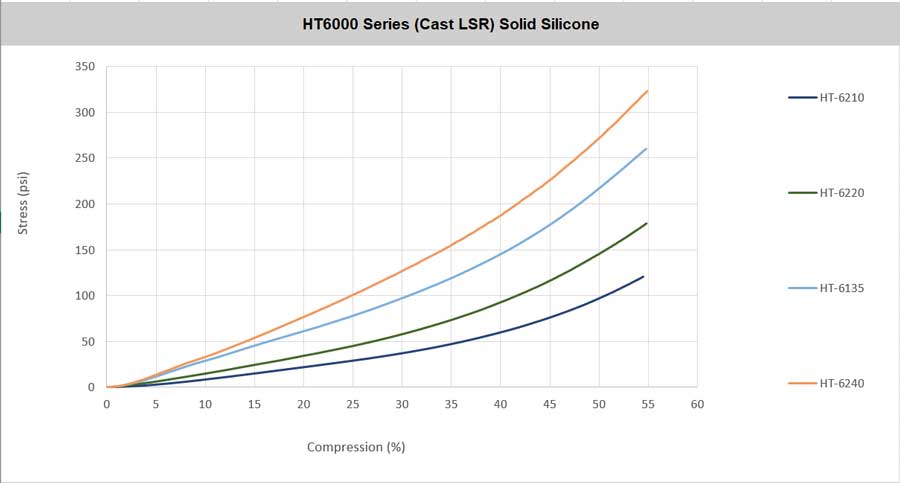 ---
The four HT-6000 series silicones selected for the ultra-thin gasket series are readily available in .010 inch and .020 inch thickness. The following Rogers BISCO® materials are available for this type of application:
HT-6210, 10 durometer gray silicone rubber is intended for sealing under very low deflection force.
HT-6220, 20 durometer black silicone rubber has been specified for light seals and environmental sealing.
HT-6135, 35 durometer off-white or cream color silicone rubber has high elongation and tear strength properties.
HT-6240, 40 durometer is unpigmented and almost clear prior to adhesive lamination.
---
Get More Information or Request a Quote for Gaskets/Seals Made From Ultra-Thin Silicone Rubber with Adhesive Backing
Contact a Stockwell Elastomerics Application Engineer for help with ultra-thin silicone rubber gaskets with adhesive backing.