For decades Stockwell Elastomerics has been applying pressure sensitive adhesive backings onto gasketing materials. Adhesive backed gaskets are very appealing to our customers for several reasons. More often engineers and designers are specifying adhesive backings for gaskets. A peel and stick gasket (or peel and stick vibration pad) offers some nice features that plain or non-adhesive backed gaskets don't have; below is a list of a few of those features.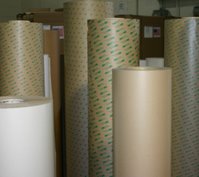 Ease of installation – a peel and stick gasket allows operators and assembly technicians to install a gasket or pad quickly and easily. The time saved by having an adhesive backing justifies the additional cost.
Gasket positioning – when an adhesive backed gasket is installed and "stuck" in place it stays in place when the lid or mating surfaces are compressed. Without being fixed in place the motion of the mating faces could move or twist the gasket cause a leakage.
Kiss-cutting – adhesive backed gaskets are able to be kiss-cut (see blog post on kiss-cutting). Manufacturing engineers like kiss-cut gaskets because parts are presented to the operators on neat roll and parts are removed from the liner versus individual parts requiring tedious liner removal.
Bolt hole position – a supported adhesive backing or double coated adhesive (see blog post about supported adhesives / double coated tapes) gives a gasket that has a series of bolt holes dimensional stability. Essentially the thin PET layer does not let the gasket stretch in the X and Y dimensions. Without this support layer the gasket may stretch during installation and the holes will not line up.
Stockwell Elastomerics offers a wide range of adhesive backed gaskets. Adhesive backings are applied to the vast majority of materials. These include Poron® cellular urethane foam, silicone foam, silicone sponge, solid silicone, neoprene sponge, electrically conductive gasket materials, thermal pads to name a few. Adhesives such as 3M's Low Surface Energy (LSE) adhesives, transfer adhesives, double coated (or supported adhesives), thermally conductive adhesives and electrically conductive adhesives are available.
Stockwell Elastomerics is not limited to applying silicone adhesive to silicone rubber. With several proprietary processes, Stockwell Elastomerics is capable of bonding a wide range of quality adhesives including acrylics and silicones.
For more information regarding adhesive backed gaskets, grades of adhesive, peel and stick or adhesive offerings, please call Stockwell Elastomerics at 215-335-3005 or complete a contact form for assistance.